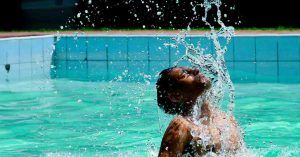 Reasons To Hire A Pool Service In Phoenix
Reliable Pool Maintenance Service In Phoenix
You know how hot Phoenix, AZ can get in the summer. There's nothing better than having your own personal oasis to cool off in. There are so many great things about having a pool in your backyard. In today's blog, brought to you by Pelican Bay Pools, we'll go over some of those benefits. If you'd like to enjoy these benefits in your Glendale, Scottsdale, or Phoenix home, reach out to us today to get your free quote!
The Benefits Of Having A Pool In Phoenix
Your pool is "the" place to be in the summertime. You're always having fun get-togethers and enjoying the company of friends and family. Creating memories is priceless! You have the added benefit of having a fun way to exercise. No more repetitive workout sessions at the gym, you can do a few laps in the privacy of your own backyard.
Pool Cleaning Is Hard Work
Having a pool seems like a lot of fun and a necessity to have in Phoenix AZ. Pool owners have very little complaints… except for pool cleaning. If you've never owned a pool, you may not know just how much maintenance goes into it. Aside from skimming out leaves and other debris, you need to find the right balance of chemicals to keep the water clean and clear. Then on top of all that, there's vacuuming, pool equipment repairs and maintenance and a whole lot of other things that need to be done. Proper pool cleaning takes a lot of time to do right, and someone with a busy schedule may not be able to do it the way it needs to be done. This is why you need a professional pool service in Phoenix.
Why Professional Pool Cleaning Is Worth It
Seeing as how Arizona is one of the top states for pool ownership, it's safe to assume that if you're reading this you have one of your own. Do you love your pool, but hate the hours of work you have to put into maintaining it? Then you need to hire someone to handle your pool maintenance.
There are a variety of benefits that come with having a professional handle your pool maintenance tasks. If you're ready to relax and let someone else handle the work, these are the professional cleaning benefits you need to know about.
Pool Maintenance Stays Consistent
In a perfect world, you'd have time carved out every week for a thorough pool cleaning. Unfortunately, late days at work, sickness, and busy schedules happen all the time. Don't worry about having to put off another cleaning because something else popped up. If you have a professional pool service come to your house, you'll know exactly when your pool will be cleaned. Imagine not having to rush another cleaning because you just found out that someone is supposed to come over and go for a swim. Having predictability in your cleaning schedule will improve things all around.
Achieving Pool Water Chemical Balance
You may have a tool that tells you the pH balance of your pool, but how much do you know about the chemistry behind keeping your pool clean? Your crystal clear pool water is made possible by a very sensitive balance of chemicals. Something that's just a little off could cause algae bloom that's tough to get rid of and looks unsightly. If you do something wrong, you could even irritate your eyes and skin after you go for a dip. Children can be very sensitive to high levels of chlorine. The chemicals in your pool are way too important to be handled by someone that doesn't know the intricacies of shocking the pool water and maintaining that nice blue water look.
Hiring someone to maintain your pool can help ensure that you have the right balance of chemicals. You won't have to worry about algae, bacteria, or irritation issues again.
Pool Equipment Maintenance
You spend time cleaning the pool, but how much time do you devote to pool equipment? Filters and pumps help keep your pool clean, and unfortunately, they don't get the attention they need. When it comes to pool filters, pool pumps, and other pool equipment, the average owner doesn't know that there's an issue until something completely breaks down.
You may not be able to tell that the sudden whirring sound your pump is making is worrisome and a sign there's something wrong, but a professional pool service tech would know the difference between a simple squeak or a major problem. A pool tech can do more than clean and look after pumps, they can help spot issues and fix them before they become a problem. Leak location and repair are standard skills every pool maintenance worker has. Hiring a pool service like Pelican Bay Pools could actually end up saving you money in the long run if they discover a problem when they're doing routine maintenance.
Reduce Stress
You just came home from a busy day at work, and your spouse just informed you that they invited friends over to hang out in the backyard and swim. Wouldn't it be nice if you could focus on getting some tasty snacks and picking out a nice outfit instead of having to scramble to make sure that the pool is ready for guests? We've mentioned how much of a time saver using a professional pool maintenance service in Phoenix could be. You won't just save time when you have a pool service, you'll also have less stress and anxiety about the pool.
Maintaining a pool is a big job. Worrying about whether it's ready or not for company can be almost as exhausting having to get it ready. When you have a cleaner, your biggest pool worry will be whether or not you have enough inflatable tubes for it.
Picking The Right Pool Service
After reading this post, you may be thinking about hiring a pool service of your own. When you search for a company to service and clean your pool, make sure you look for a few things to make sure that they're the right fit for you. Go for a company that has a solid reputation in the community. You want one that offers more than just a simple skim and vacuum. A reputable pool cleaning service would be able to carefully clean the pool with the proper equipment and eliminate the build up of dirt and debris.
They should also be able to backwash filters, and should effectively clean all of the skimmers. Reputable pool services also know how to maintain proper chemical levels and repair or replace pool equipment when necessary. Also be sure they offer special services. Knowing that you can have your pool serviced when you're on vacation, or that you can have a one-time pool cleaning for a special occasion is very convenient.
Any Pool Questions?
As you can see, if you have a pool in Phoenix, you can't afford to not have a pool cleaning and maintenance service. Do you have questions about professional pool cleaning? Feel free to contact us so we can answer them!